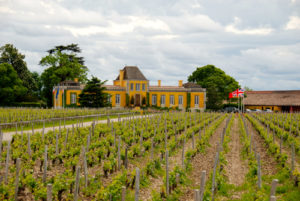 Ever since Roman times, the Bordeaux region of France had been renowned for its wines. One of the major problems that Americans had with the French wines was that to really know what you were drinking you had to learn a dictionary full of lip twisting French terms and have an intimate knowledge of what winery made what wine, as the French never list the varieties of grapes they used on the label. It often wound up being pot luck in your choice. The only real source of information was from wine writers or Gus, the clerk in the wine store.
Some of the Bordeaux wines are classified as Cru Bourgeois (bujh wah). The proper translation of Bourgeois is middle class or merchant. That aside, the cru Bourgeois wines are carefully judged by the French government to be up to the specific and rigid standards that they have set for a wine to be permitted to be labeled Cru Bourgeois. With the recent arrival of Bordeaux Cru Bourgeois wines to our shore, a little help may be needed to acquaint yourself with these wines.
Chateau Lilian Landoys 2012 Cru Bourgeois ($30). Even though this wine has been in the bottle for several years, it retains its fresh, bright flavor and aroma The Chateau Lilian Landoys Cru Bourgeois is a blend of 70% Merlot and 10% each of Cabernet Savignon Cabernet Franc and Petite Verdot and is not on of those often found rock hard Bordeaux's but a softer more friendly incarnation. The wine is dark in color and has the traditional Bordeaux trademark aroma of black (and since you probably have never tasted a black currant it is like a cranberry and black raspberry mixture), berry, and oak. The flavor is fruity elegant stressing black currant, berry, plum, and mint, with just a hint of dark chocolate and oak in the background. This is a fine wine that is also an excellent value.
Chateau Rollan de By 2012 Cru Bourgeois ($21) A brilliantly balanced wine, Chateau Rollan shares its flavors and structure with the rest of the Bordeaux but like all of the chateau wines, it displays its own particular and identifiable nuances and charm. With this wine it is a smoky effect combined with the aromas of bell peppers, leather, and truffles. These carry over to the flavor where they mingle with oak and cedar. The finish is long and very enjoyable.
Chateau Bibian2012 Cru Bourgeois ($24.99). Here is another of the wines from the Bordeaux region that is gaining many friends among wine lovers. It is more like the Bordeaux wines of old rather than the modern style. The wine displays an aroma heavy with summer flowers and plums. The flavor caters to the freshness of a new wine while also displaying the subdued, elegance of an aged wine. Here too, the Bordeaux signature black currant flavor is the most obvious, while summer berries and oak bring up the rear. As is the case with all of the château wines of the Bordeaux, this wine can still benefit from some bottle aging, but it will also do fine for current drinking.
2012 Chateau Landat ($28). Again the signature flavor of Bordeaux abounds in this wine and it is a fine example of the style. 2012 Chateau Landat is about as typical a Bordeaux as one can get being a blend of 60% Cabernet Savignon, 35% Merlot and 5% Petite Verdot and displays the deep purple color and heavy black raspberry/cranberry, and oak aroma that are common to all Bordeaux red wines. The wine also has a bit more tannin than our domestic wines, which adds to its aging possibilities. We should point out that it is the Bordeaux style of wines that winemakers around the world look to as the standard for a Cabernet Savignon. If you are not familiar with the Bordeaux style of winemaking or have limited experience with French wines, do try Chateau Landat, you will not be disappointed.